Situation
Our facility is situated near the sea in beautiful surroundings in Mjosundet in Aure Municipality – Møre og Romsdal County, Norway. The shipyard Sletta Verft AS is our closest neighbour and a good client. Right to the south, there is a guest harbor, marina and pub.
All in all, the manufacturing facilities in Mjosundet have about 100 jobs.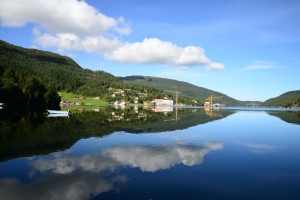 Our Municipality
Our municipality center, Aure, with guest accommodation, shopping center and an elementary school, with cultural center and top sports facilities, out and indoors, is situated about 10 min drive away.
Aure Municipality has 100% child care coverage.
Nature and Leisure
The municipality is wide and has rich possibilities for open-air activities both on water and dry land, with fjords, an archipelago, mountains and forests.
Several active athletic clubs, organized child athletics and prepared skitracks during winter reflect this.
Try e.g. Aure IL or Tustna IL.
If other kinds of organized leisure activities are more tempting, there is a large assortment of organizations within culture and volunteer social work. The home page of Aure kommune (Aure Municipality) gives an extensive overview over groups and organizations within the municipality.
Travelling time with car from Kristiansund is about one hour, and from Trondheim about 2 hours.
Travelling time to Kjørsvikbugen, with speed boat connection to Trondheim-Kristiansund, is about 30 min.
Seen from the ocean, we are situated slightly further in from the Trondheim Passage.  Turn southeast at the Tyrhaug Lighthouse, cross the Gjerdevika Bay and go further past Ånes Headland, then you'll find us.
Nearest airport is situated in Kristiansund. Here you will find senior high schools, the vocational college in Kristiansund which offers education with health and child care, maritime subjects, petroleum technology, and Subsea technology, also the college center with undergraduate courses in nursing and petroleum logistics. Here you can also find the Vestbase and a network of businesses both for serving the oil industry in the North Sea and globally. Some of these are also clients of the MBH, and a motivation for continuous product development.
In the northeast, by the Trondheim Passage, we find Tjeldbergodden, and then the towns Kyrksæterøra, Orkdal, and finally Trondheim and the Værnes Airport.
Tjeldbergodden by Kjørsvikbugen is known for Statoil's facility for methanol production based on North Sea gas. The methanol factory and surrounding businesses employ about 100 people.
Trondheim is known as the technology capital of Norway, with the NTNU og SINTEF, and has the Nidarosdomen Cathedral, and the soccer team Rosenborg, which is almost equally famous.
Fish farming is an important industry in Møre. Also in Aure. The fish farming industry has generally developed into an important client for MBH and a driving force for the development of new products; especially winch solutions where we now deliver advanced winches with a pull of  100 tons.
Farming and forestry are also important industries in the municipality.
There are vast forests, and one of Norway's largest deer stocks. Many provide hunting leases.
The MBH does not deliver equipment for farming and forestry.