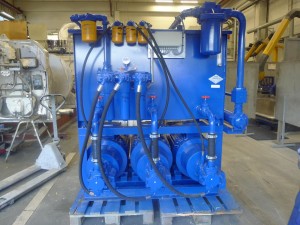 23/6-2015
Following a prior order being installed in Pula right now, as we are there on commissioning on their build no 99, MBH have signed a new order with Tehnomont Shipyard Pula for the delivery of an identical complete hydraulic equipment package for build no 100:

Firstly there are of 2 off Warping winches 10 + 60 tons in common winch frame featuring
– the 60 tons winch with a proportional 2-speed arrangement with a speed up ratio of 3,7:1 in high speed mode
– the 10 tonn winch with normal, proportional speed arrangement.
Further the winch arrangement is equipped with
– Tension and length measuring.
– El-activation of controle valve for remote operation.
– Radio Remote control
– 1 off emergency quick release for towing on 60t drum according to ISO 7365.
Additionale, on deck, anchor windlass and capstans 3,0 and 8,0 tons
1 off Windlass type 1-AV-22K2
2 off Capstan type CA-3,0-320-AHB-SM With footpedal
2 off Capstan type CA-8,0-320-AHB-SM With footpedal
For the running of the deck equipment a 3×60 kW Electrohydraulic aggregate (HPU) is also delivered.
The HPU may be started in 60kW steps.
Finally a complete 2 x 250 hp thruster package is included;
2 off Thruster type S-150-250-V250
2 off Rexroth A4VG 175
1 off Oil cooler, 1 off Oil reservoir 300 litre, w/ level and tempereture sensor
2 off Control panels: 1 main panel and 1 slave panel.
Deliveries to take place in August and December 2015.
We are thanking for the order!